This is one concert you should not miss. The Hollywood Mass Choir under the direction of Patrick Hare has become one of Southern California's most sought after Gospel music ensembles. The award winning choir will perform this Sunday March 19, 2006 at the Mt St. Olive Lutheran Church in Santa Monica.
Grab your chariot and swing down to the spiritually uplifting rock'in sounds of this musical ministry!

Patrick Hare,
Conductor
Rev. Alexander Hamilton,
Accompaniment and Musical Direction
*and let you stand..by grace on Heaven's table land!
This website is an unofficial unapproved creation of tenor, Alec Henderson designed to promote HMC to his more indifferent family and friends. No content or presentation has been approved or authorized by HMC, its agents and/or affiliates and the author accepts full responsibility for the unlawful use of the name and images of HMC, its members, directors and affiliates and preemptively apologizes for same and begs forgiveness for his direct and implied transgressions of copyright and personal intellectual property rights of HMC, its members, directors and affiliates. All rights reserved.
Hollywood Mass Choir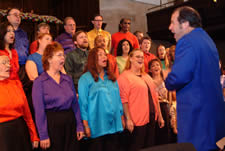 Patrick Hare, Conductor
Event Date and Time:
This Sunday March 19, 2006, doors open at 4:30. Downbeat is at 5:00 (first song immediatly following on the upbeat!)
Location:
Mount St. Olive Lutheran Church
1343 Ocean Park Blvd, Santa Monica, California